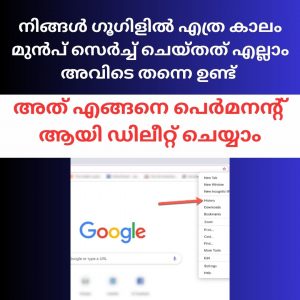 Are you a Google Chrome searcher?
But Google Chrome saves everything you search. It's in Google history for every search. Today we are going to see how we can delete everything. Google Chrome is a browser with good memory. Whatever we search in it will be saved in Chrome's memory. It doesn't cause any other problem for us, but if we give our phone to someone else, if he opens that Google Chrome browser, he can see everything we have searched in it. All of us want to clear the search history in the Chrome browser, but nothing is removed from the Chrome browser memory.
Let's see how to permanently delete search history from our Chrome browser.
The first thing we need to do is to open our Chrome browser and open it and click on the search bar to see your search history. But that's not what we want. Click on the three doors on the side and then select the History option. When we take a look at that history, we can see everything that we have searched in it. We can see what has been there since the day we started Google. We can delete it in two ways. One of them there is an option Clear Browsing Tata and after clicking on it we have All Time in it and after giving Clear Tata it will be full and clear. After doing so, nothing can be seen in the past history, but nothing has actually been deleted.
All you have to do to actually delete it is search for Google Activity in the Google search bar. In it you select Web and Activity. Once you've selected that, you'll come down and select Manage Web All Activity. In it you can see everything that you have searched on Google for so long. We have an option called Filter and Tata and if we click on it, everything that we have logged into our Google will come. Just select what you need and clear the rest.